AQUARIAN TEACHER
KUNDALINI LEVEL I TRAINING
Teacher Training:
Training Dates - February 28th, 2020 to October 25th, 2020
Training Schedule -
Friday, Feb 28 – Sunday, Mar 1, 2020

Friday, Mar 6 – Sunday, Mar 8, 2020

Saturday, Mar 28 – Sunday, Mar 29, 2020

Saturday, Apr 25 – Saturday, Apr 25, 2020; April 25th is a White Tantric weekend, in Chicago.

Friday, May 29 – Sunday, May 31, 2020

Saturday, Jun 27 – Sunday, Jun 28, 2020

Saturday, Jul 25 – Sunday, Jul 26, 2020

Saturday, Aug 29 – Sunday, Aug 30, 2020

Saturday, Sep 26 – Sunday, Sep 27, 2020

Friday, Oct 23 – Sunday, Oct 25, 2020
About Aquarian Teacher™ Training
The Aquarian Teacher™ is a RYT 200-hour Certified Course. It includes the following major areas of study:
Awakening Consciousness: The Practice and Principles of Kriya and Meditation

History & Philosophy of Yoga

Asana: Principles of Alignment

Pranayam: Principles of the Breath

Sound & Mantra: The Science of Naad

Becoming a Teacher: Identity and Projection

Becoming a Yogi: Humanology and Lifestyle Studies

Professional Ethics and Applied Settings

Physical and Subtle Anatomy

Practicum: Teaching from Day One
What to Expect
Level One Teacher Training in Kundalini Yoga as taught by Yogi Bhajan® is a transformative experience, whether you decide to teach or simply use it as an opportunity for personal growth, you will change. Those changes can be a challenge to your family and your community. Don't take it personally; and definitely don't make any big decisions during Teacher Training. Simply allow yourself to dive deeply into your own identity – and above all, Keep Up!
The course is a physical and mental challenge. Do your best to set up your life to support your Teacher Training experience because, once it's over, your Teacher Training experience will definitely support your life!
Your Community
If you are interested in bringing a KRI Level One Teacher Training in Kundalini Yoga as taught by Yogi Bhajan™ to your community, please contact Sat Purkh Kaur at satpurkh@gmail.com.
Absence Policy
You can miss one weekend or 20 hours (10% of the course) and make them up with homework; any additional time off, you would need to either pay to participate in another training's weekend or pay for a trainer to sit with you and go over the content – basically paying for a private session. You can also work with a peer to have the entire weekend recorded; but there would still be a tutorial fee for going over the material one-on-one with someone with expertise.
If you miss more than 20% of the course (even with make-up work), you are not eligible for certification. To sum up: you can miss one weekend, and make it up with homework; if you miss a second weekend, you can pay to make it up in person with a training/trainer; any absences beyond 20%, you are no longer eligible for certification. Of course, you could complete the course for your own depth and experience and we would welcome that; but if you're interested in being certified, showing up counts!
"What do we mean by communication? The definition of communication is a practice that creates a 'common notion' with another person or object of attention… At what level do we communicate? Did you ever learn that your existence is your communication? Your projection is your relationship? You are the power? But life is often sour. There is no happiness, because your communication has no purpose of Self. You communicate to impress someone. You don't communicate to relate you to someone. That's why you suffer now. You don't communicate consciously."

Yogi Bhajan
REGISTER FOR POP LIFE WELLNESS
TEACHER TRAINING:
A KRI Certified Level Three Kundalini Yoga Teacher as well as Lead Trainer in the Aquarian Trainer Academy, Sat Purkh is known for her work in Sound & Mantra as well as Humanology and the Women's Teachings; in 2008 she authored Everyday Grace: The Art of Being a Woman, an introduction to the Women's Teachings of Yogi Bhajan.
Sat Purkh joined the Kundalini Research Institute in 2006 and served as the Creative Director until the fall of 2013. A member of the Teacher Training Executive Council, she serves in developing the Three Levels of Teacher Training in Kundalini Yoga as taught by Yogi Bhajan®, and also served on the KRI Board of Directors from 2014-2017.
She has eight albums of sacred music, Nectar of the Name, Beautiful Day: The Aquarian Sadhana, Queen Be: The Goddess Within, Love & Other Miracles, One: Love, Life, Light, The Pearl: Maiden, Mother, Crone, The Guru Within, and Across the World Ocean. She lives with her husband and their menagerie of animals, and is always at work on her next album of sacred music.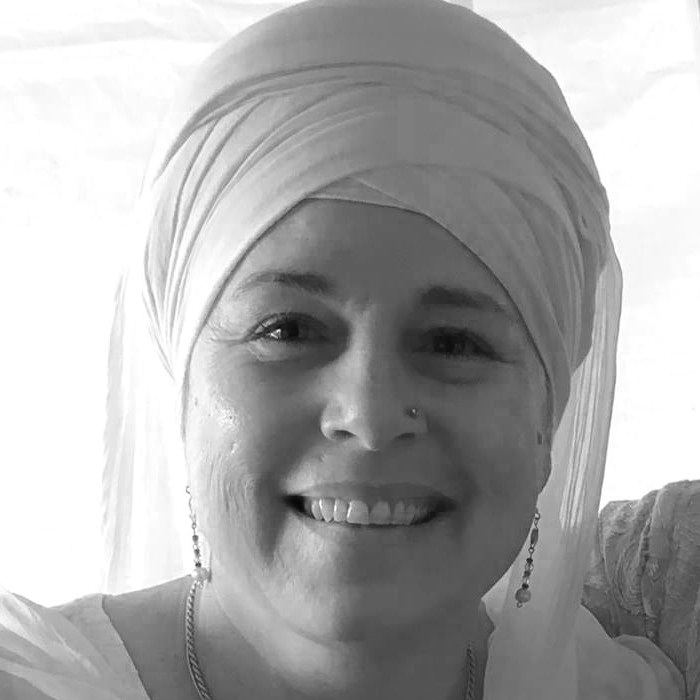 A senior Teacher trained in various lineages such as classical Hatha, Kriya Yoga, Kundalini Yoga, Bhakti Yoga, Osho Dynamic Meditations, and Core Strength Vinyasa. Has diverse fitness and bodywork background with 27+ years of teaching experience and 800-hours of formal yoga training. Certified with the Kundalini Research Institute as a Level I Kundalini Yoga Teacher. Certified through International Yoga Alliance as a RYT-200 in Dharamsala, India and Yoga Alliance as a 200-hour E-RYT.